Publications
When Work is a Fountain of Love
John Culmer examines a Waterman's Ideal fountain pen made in 1940, which he repaired for a client
in Hamilton at the Peel Pen Shop in London.

Vintage Pen Condition Guarantee
All parts original and showing only very slight signs of use: slight surface scratching; very minor discolouration or brassing; crisp imprints; no significant dings. Most of our vintage pens fall into this category as being excellent, collectible examples which are also suitable for everyday use.
In order to maintain the interior condition of the pen, my entire collection is stored dry. That means that when you purchase a pen, I will be installing a fresh ink sac in your new writing utensil, and will complete a full secondary inspection.
We've got history.
Today, although the Peel Pen Shop's retail store location is now closed, John still repairs and sells antique pens from his home - happily servicing customers throughout North America and around the world.
Learn More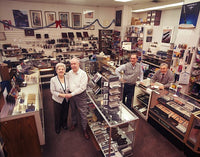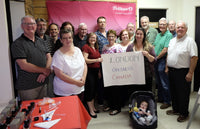 Pelikan Pen Hub 2019
Thousands of fans from across the world, all sharing a fascination with the same thing: Pelikan writing instruments. Since 2014, Pelikan has helped coordinate annual, simultaneous "Pelikan Hubs" in many cities across the world. A steadily growing networking event crossing national borders, strengthening the bond between Pelikan fans and nurturing their passion with every year.
Visit their website
A BRIEF MESSAGE FROM OUR FRIENDS
Peel Pen Shop in London was the breeding grounds for the London Pen Club. Once upon a time, there were 3-5 pen collectors who would show up at Peel Pen as it opened on Saturday mornings and sit around a very small table and well, talk pens, play with ones discovered recently or evaluate the newest to arrive in the store. Eventually the store closed and those individuals were determined to carry on that love of Saturday morns and writing instruments. They formed a club and soon, [new members] came.

If for no other reason Peel Pen has be considered one of the 'noted" pen shops in Canada... fostering not only a love of pens but providing space and time for early members of this club. John Culmer still operates Peel Pen on the internet selling pens and providing a repair service.

"Today, Peel Pen Shop is the only remaining full time, independent repair and restoration facility in Canada servicing customers throughout North America". John is an experienced and excellent at pen repairs.

London Pen Club